Parker tubing from
Parflex Division
is available in a very wide variety of materials, colors in inch and metric sizes. Nylon, polyethylene, polypropylene, polyurethane, urethane and vinyl to name a few. A perfect match for Parker's
Prestolok
push-to-connect instant tubing fittings and valves.
Click Image to Zoom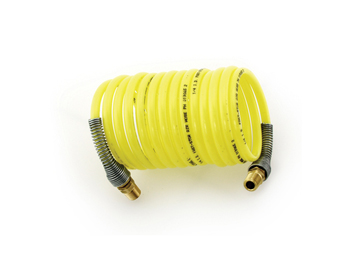 *Product image is representative provided by the manufacturer. Do not make buying decisions soley based on the image. Please verify specifications meet your requirements.
Fast-Stor Urethane Tubing Assembly
Abrasion Resistance Self Retracting Air Hose for Pneumatic Applications
Bold items are most common and readily available.
| UOM | Outer Diameter 1 | End 1 | End 2 | Inner Diameter | Wall Thickness | Color | Max Pressure | Material |
| --- | --- | --- | --- | --- | --- | --- | --- | --- |
| EA | 3/16 Inch | 1/8 NPT | 1/8 NPT | 0.125 Inch | 0.0315 Inch | Blue | 125 PSI (9 bar) | Urethane |
| EA | 3/16 Inch | 1/8 NPT | 1/8 NPT | 0.125 Inch | 0.0315 Inch | Blue | 125 PSI (9 bar) | Urethane |
Parker Parflex Nomar Self Retracting Air Hose Is Manufactured With Urethane In A Standard Transparent Blue Color. Other Colors Available Upon Request Tubing Is Manufactured